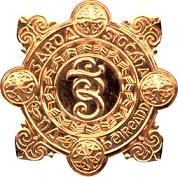 The badge of the Garda Síochána was designed by John Francis Maxwell (1880-1948), a technical school teacher of art in Blackrock, Co. Dublin. Maxwell used design features in the work of a representative group of craftsmen to evoke the peaceful pursuits of the people.
The badge as a station plaque was cast at the foundry of Duthie and Large, Athy, from a model by Herbert Painting, teacher of woodwork at the local technical school. These plaques are still in use. The original colours of green and yellow, were changed in later years to blue, grey and white on a black ground.
Maxwell's ideas were not fully realised in either the cap-badge or station plaque as both hurriedly manufactured on the transfer of Government in 1922. In 1966 the sculptor, Michael Biggs, finishing the memorial at the entrance to Garda Síochána Headquarters in the Phoenix Park, achieved Maxwell's conception in a limestone coin set in granite with fully rounded bosses and a redesigned monogram in the centre.
The badge is in the form of a Celtic cross. On the centrepiece are the intertwined letters G.S. - the initials of the words, Garda Síochána. The badge carries the inscription, Ghárda Síothchána na h-Éireann - (Guardians of the Peace of Ireland).





The first use of the badge as a printed device was in the banner of the official magazine, Iris an Ghárda (1923).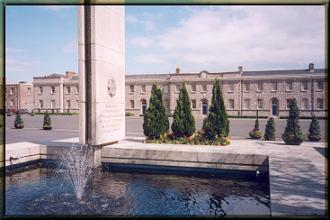 The memorial by Michael Biggs
at the entrance to Garda Síochána Headquarters